February is Black History Month, a time to not only honor past generations of Black Americans, but also to bring attention to the ongoing struggle to advance racial equality and combat racism. At Social Science Matrix, we strive to bring forward the work of UC Berkeley social scientists whose scholarship enhances understanding of Black lives in America, whether through the lens of African American Studies, History, Sociology, Psychology, Ethnic Studies, or other disciplines.
In honor of Black History Month, we share below a selection of 12 of our past articles, podcasts, and videos of panel discussions with themes related to understanding Black lives in America.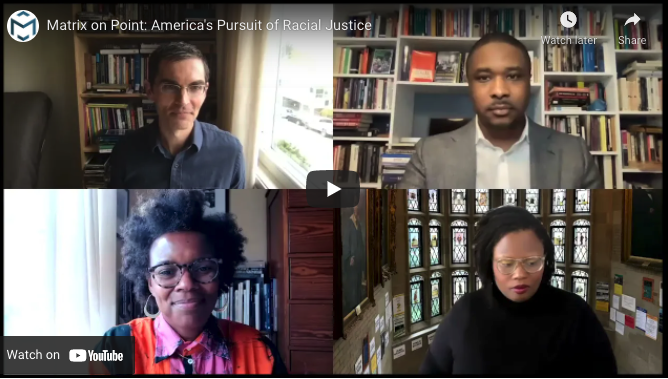 Last spring, Matrix convened a "Matrix on Point" panel on the long (and continuing) struggle for racial justice in America. At the center of the discussion: the critical momentum of Black-led protests and the Black Lives Matter movement, situated within the larger historical context of social movements for racial justice in the United States and the unfinished work of the Civil Rights Movement. The panel featured Monica Bell, Associate Professor of Law & Sociology at Yale Law School; Leigh Raiford, Associate Professor of African American Studies at UC Berkeley; and Brandon M. Terry, Assistant Professor of African and African American Studies and Social Studies at Harvard University. The panel was moderated by Christopher Muller, Assistant Professor of Sociology at UC Berkeley.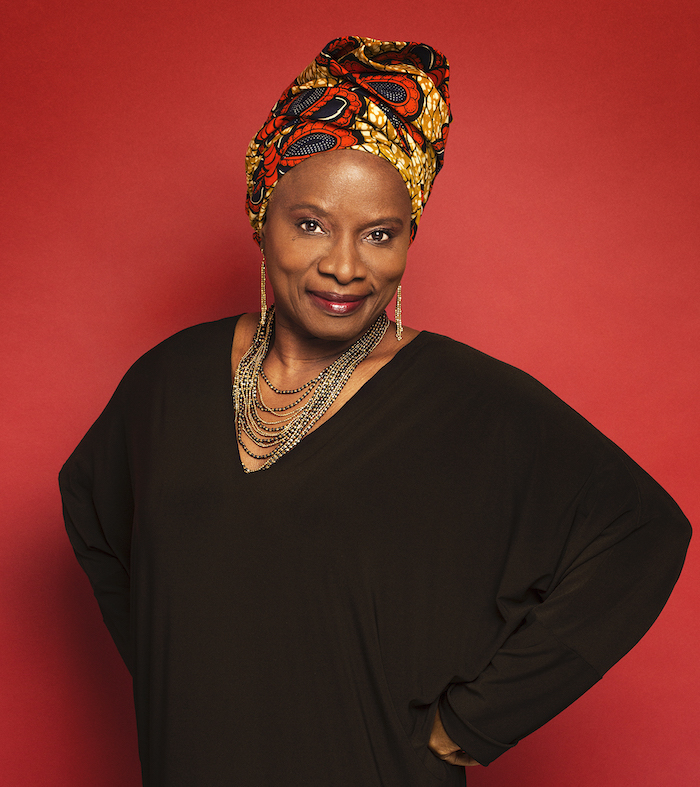 Matrix was honored to welcome four-time GRAMMY winner Angélique Kidjo for a conversation about the global circulation of African musical forms and musicians, as well as the significance and social power of this musical diaspora. The panel was co-sponsored by the Townsend Center for the Humanities, Cal Performances, and the Black Studies Collaboratory, an important new UC Berkeley initiative (funded through a multi-million dollar Mellon Foundation grant awarded to the Department of African American Studies) that brings together "artists, activists, locals, and scholars to amplify the interdisciplinary, political, and world-building work of Black Studies." Kidjo was joined in conversation by Tianna Paschel, Associate Professor in the UC Berkeley Department of African American Studies; Ivy Mills, Lecturer, Visual and Literary Cultures of Africa and the African Diaspora; and Victoria Grubbs, Lecturer and Black Studies Collaboratory Postdoctoral Fellow.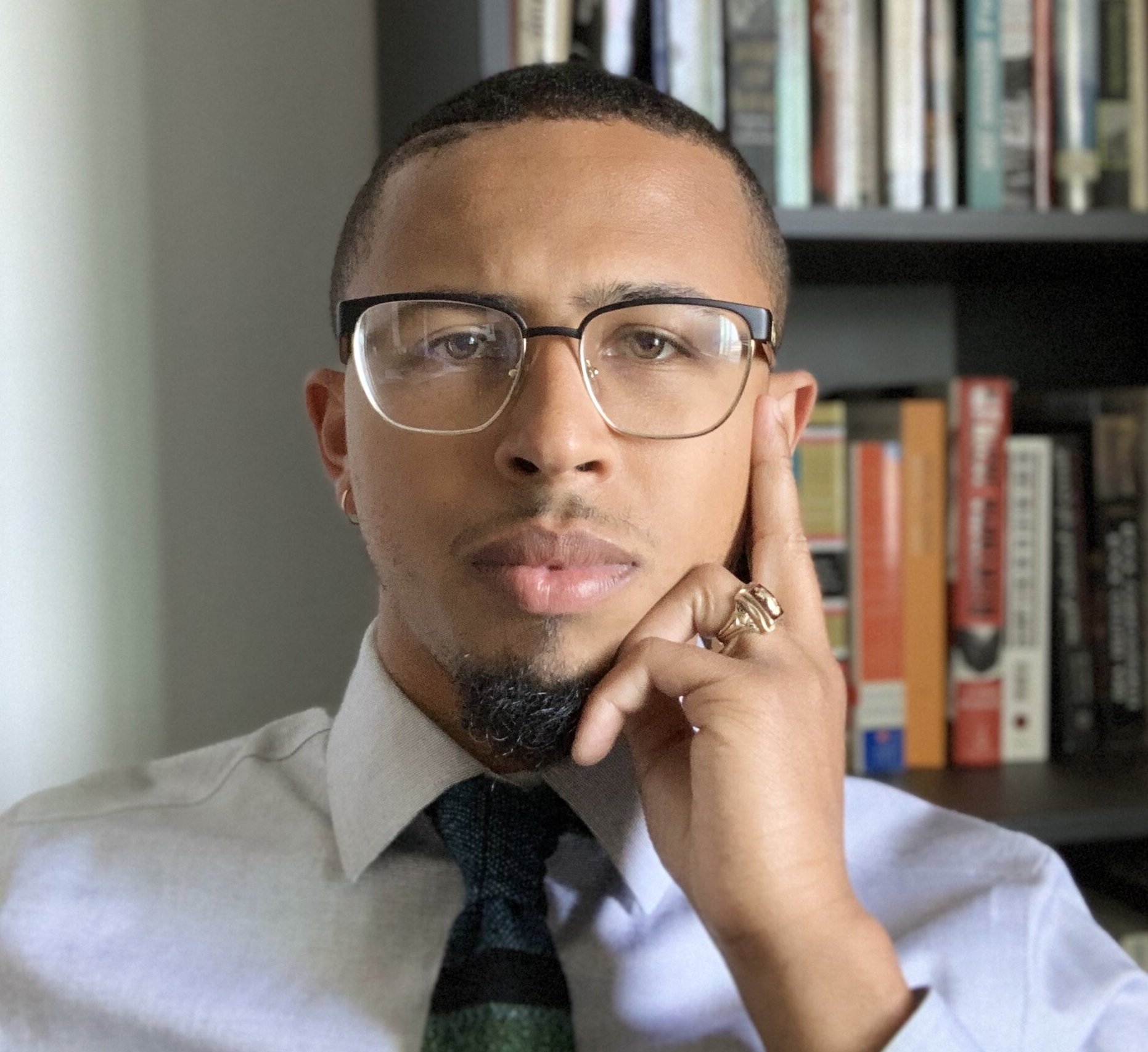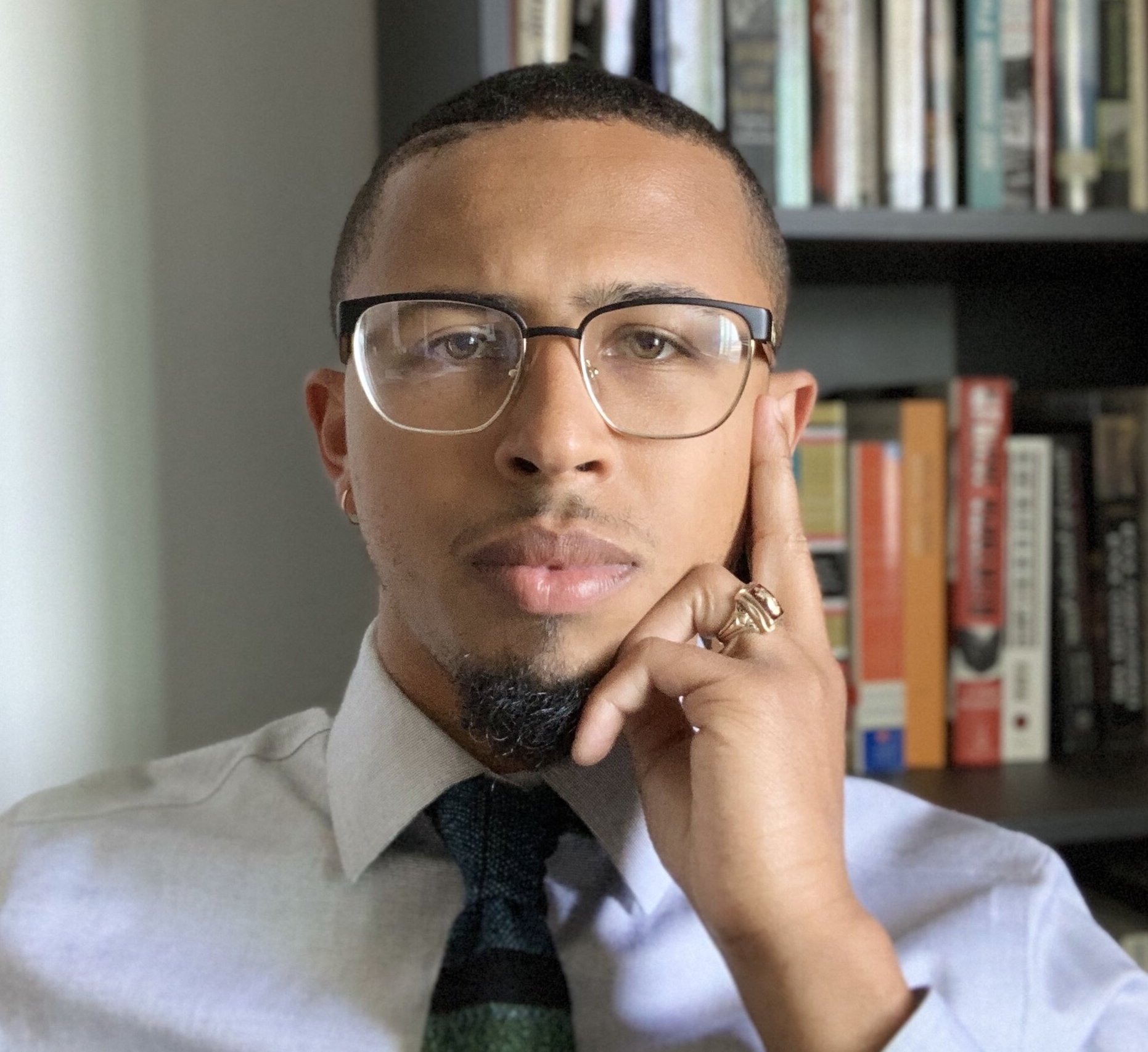 On this episode of the Matrix Podcast, Julia Sizek interviewed Xavier Buck, Deputy Director of the Dr. Huey P. Newton Foundation, a nonprofit that has preserved and promoted the legacy of the Black Panther Party for over 25 years. Buck graduated with a PhD in History from UC Berkeley in 2021. His work blends organizing and educational pursuits in the service of sustaining movements for Black lives, and he has previously been a fellow at Prosperity Now, the Education Trust – West, and the Digital Equity Initiative at the City & County of San Francisco. The discussion focuses on Buck's work in public history, including his @historyin3 channel (which can be found on TikTok and Instagram), his current work at the Huey P. Newton Foundation, and his dissertation research, which shows how Black experiences in Louisiana from 1927 to 1945 were integral to Black political organizing, cooperative economics, and government partnerships in California from 1945 to 1975. Listen on Apple Podcasts or Google Podcasts.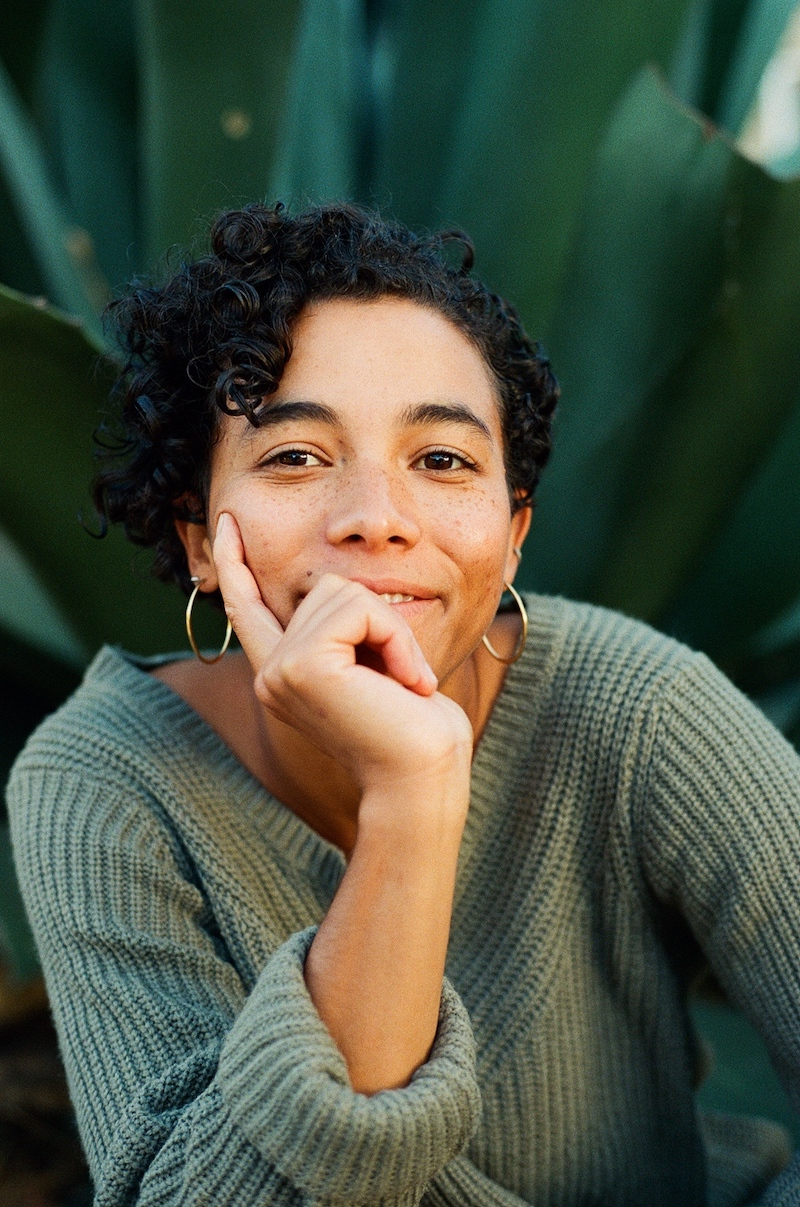 This article on the Matrix website features a "photographic interview" with Kaily Heitz, who earned her PhD from the UC Berkeley Department of Geography in 2021, and who studies how concepts of Blackness and Black culture have been deployed in the making and marketing of Oakland, California. Her dissertation, "Oakland is a Vibe: Blackness, Cultural Framings and Emancipations of The Town," draws on Black feminist geographies and media studies to understand contemporary conflicts over gentrification in "The Town." A paper based on this research, Sunflower's Oakland: The Black Geographic Image as a Site of Reclamation, was published by Antipode, and was awarded the 2020 Clyde Woods Black Geographies Specialty Group Graduate Student Paper Award. Dr. Heitz has worked with Matrix Research Teams in the past, including the Berkeley Black Geographies team. Her research practice involves ethnographic research with United Roots/ Youth Impact Hub, Eastside Arts Alliance, the Black Cultural Zone, and the Business Association of the Black Arts Movement and Business District (BAMBD), archival research, and analysis of public art in and around Oakland. This interview by Julia Sizek, a PhD candidate in the UC Berkeley Department of Anthropology, revolves around images from Kaily's work that help reveal the arguments of her work.
Jack Glaser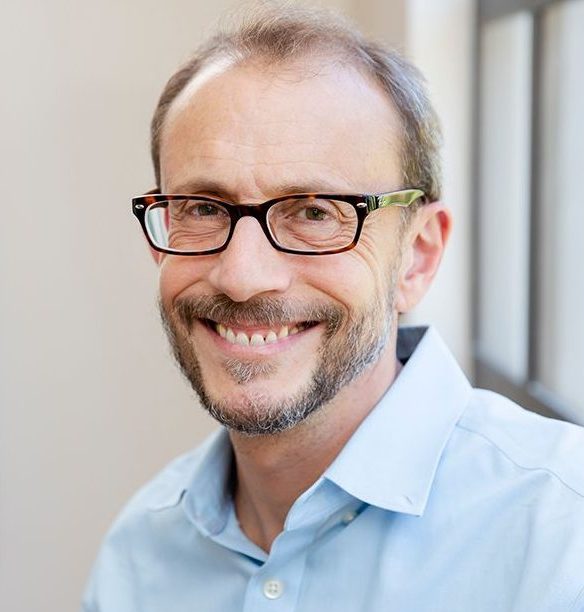 , Professor in the Goldman School of Public Policy, is a social psychologist whose primary research interest is in stereotyping, prejudice, and discrimination. He studies intergroup biases at multiple levels of analysis. For example, he investigates the unconscious operation of stereotypes and prejudice using computerized reaction time methods, and he is investigating the implications of such subtle forms of bias in law enforcement. In particular, he is interested in racial profiling, especially as it relates to the psychology of stereotyping, and the self-fulfilling effects of stereotype-based discrimination. Professor Glaser is working with the Center for Policing Equity as one of the principal investigators on a National Science Foundation- and Google-funded project to build a National Justice Database of police stops and use of force incidents. He is the author of Suspect Race: Causes & Consequences of Racial Profiling. Professor Glaser has been involved with past Matrix Research Teams on community trust and policing. We reached out to Professor Glaser for his insights on bias in policing in the wake of the protests for racial justice and police reform.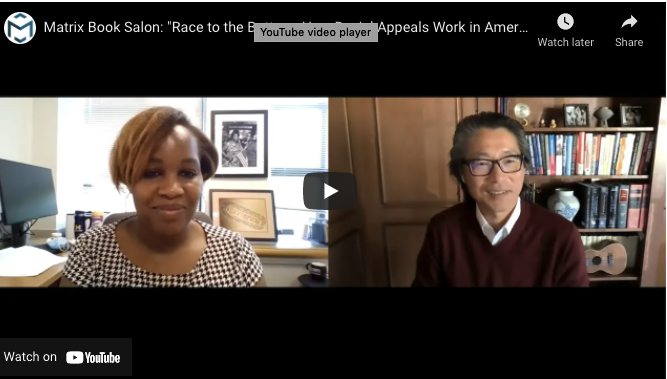 Social Science Matrix presented a Matrix Book Salon featuring the book, Race to the Bottom: How Racial Appeals Work in American Politics, by LaFleur Stephens-Dougan, Assistant Professor in the Department of Politics at Princeton University. Professor Stephens-Dougan was joined in conversation by Taeku Lee, Professor of Political Science and Law at UC Berkeley. The book focuses on "racial distancing," which Stephens-Dougan explained is "a political strategy whereby some politicians want to indicate to racially moderate and racially conservative whites that they will not disrupt the racial status quo — in other words, that they will not be too beholden to their Black constituents, but also communities of color more broadly. This racial status quo is characterized…by racial inequality, with whites at the top of the hierarchy, including white dominance in political, social, and economic institutions. The degree to which politicians are really able to engage in this racial distancing is influenced by both their partisanship and their race."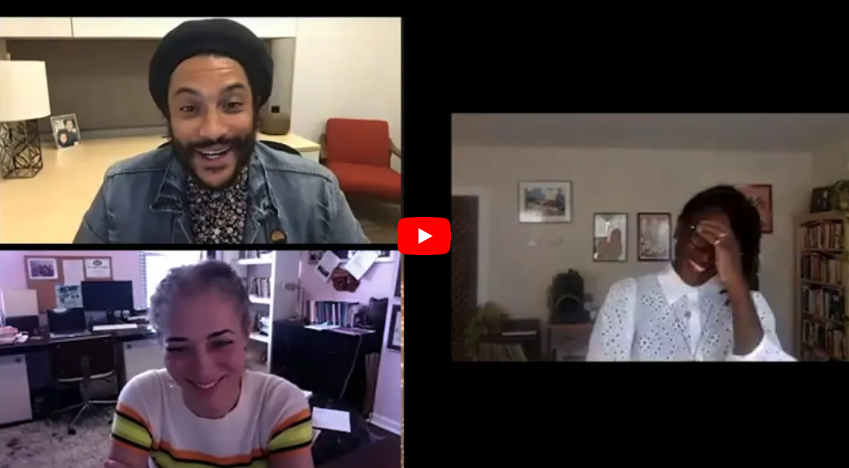 In March 2021, this video features a panel discussion about Scammers Yard: The Crime of Black Repair in Jamaica, a book by Jovan Scott Lewis, Assistant Professor of Geography at UC Berkeley. Scammer's Yard tells the story of three young and poor men striving to make a living in Montego Bay, where call centers and tourism are the two main industries in the struggling economy. The book describes how these young men, seeking to overcome inequality and achieve autonomy, come to view crime as a form of liberation. As part of the UC Berkeley Social Science Matrix "Authors Meet Critics" series, Lewis discussed the book with Nadia Ellis, Associate Professor, UC Berkeley Department of English; and Deborah Thomas, R. Jean Brownlee Professor of Anthropology at the University of Pennsylvania.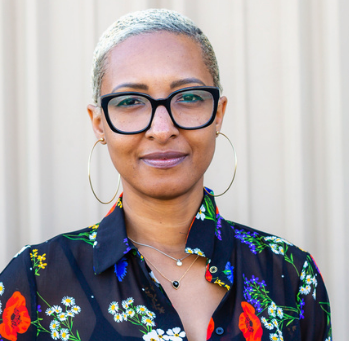 In Fall 2020, Social Science Matrix hosted an online discussion focused on Black in Place: The Spatial Aesthetics of Race in a Post-Chocolate City, a book by Brandi Thompson Summers, Assistant Professor of Geography and Global Metropolitan Studies at UC Berkeley. In her book, Summers documents Washington, D.C.'s shift to a "post-chocolate" cosmopolitan metropolis by charting the economic and racial developments of H Street, one of the city's main commercial corridors. Thompson's book offers a theoretical framework for understanding how blackness is aestheticized and deployed to organize landscapes and raise capital. "I'm really describing this changing historical role of Blackness and its interaction with processes of gentrification," she explained.  "I'm using this small space — H Street, this commercial corridor — to tell a much wider story about cultural change, about racial conflict, and also about capital flows and governance." Dr. Summers discussed Black in Place with Nikki Jones, Professor in the Department of African American Studies at UC Berkeley.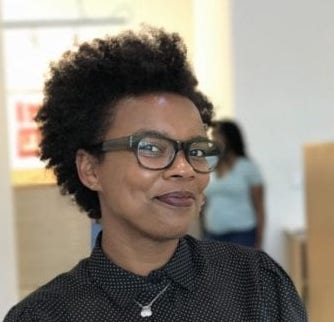 In this episode of the Matrix Podcast, Michael Watts interviewed Leigh Raiford, Associate Professor of African American Studies at UC Berkeley and author of Imprisoned in a Luminous Glare: Photography and the African American Freedom Struggle, a finalist for the 2011 Berkshire Conference of Women Historians First Book Prize. In her book, Raiford argues that over the past one hundred years, activists in the black freedom struggle have used photographic imagery both to gain political recognition and to develop a different visual vocabulary about black lives. Offering readings of the use of photography in the anti-lynching movement, the civil rights movement, and the black power movement, Imprisoned in a Luminous Glare focuses on key transformations in technology, society, and politics to understand the evolution of photography's deployment in capturing white oppression, black resistance, and African American life. Listen on Apple Podcasts or Google Podcasts.
Recorded on January 29, 2020, this "Authors Meet Critics" panel featured a discussion of They Were Her Property: White Women as Slave Owners in the American South, by Stephanie E. Jones-Rogers, Associate Professor of History at UC Berkeley. Bridging women's history, the history of the South, and African American history, They Were Her Property makes a bold argument about the role of white women in American slavery. Jones-Rogers draws on a variety of sources to show that slave-owning women were sophisticated economic actors who directly engaged in and benefited from the South's slave market. In discussing her book, Jones-Rogers engaged with two eminent colleagues: Bryan Wagner, Associate Professor in the Department of English at UC Berkeley; and Leslie Salzinger, Associate Professor of Gender and Women's Studies at UC Berkeley.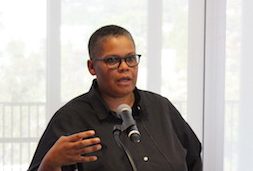 In early 2020, Social Science Matrix was honored to host Keeanga-Yamahtta Taylor, Assistant Professor of African American Studies at Princeton University. Professor Taylor discussed her book, Race for Profit: How Banks and the Real Estate Industry Undermined Black Homeownership, which was published in 2019 by University of North Carolina Press and was longlisted for a National Book Award for nonfiction. Race for Profit uncovers how exploitative real estate practices continued well after housing discrimination was banned through the Housing and Urban Development Act of 1968. The same racist structures and individuals remained intact after redlining's end, and close relationships between regulators and the industry created incentives to ignore improprieties. The lecture was co-sponsored by the Department of African American Studies, Gender and Women's Studies, and Global Metropolitan Studies.
Social Science Matrix is UC Berkeley's institutional home for the Slave Voyages Database, the most prominent public-facing project on the history of the slave trade and one of the most dynamic sites of research in slavery studies. It was launched under its former name "Transatlantic Slave Trade Database" in 1999 as a CD ROM and migrated online in 2008. A revolutionary tool for scholars since its inception, it has received renewed public attention in the wake of the U.S.'s 1619 anniversary. A consortium has been formed to collaborate on relaunching elements of the project and providing long-term sustainability. UC Berkeley joins our colleagues at UC Irvine and UC Santa Cruz organizing this on behalf of the University of California. Other consortium members are Rice University, Emory University, the Hutchins Center at Harvard University, the National Museum of African American History and Culture, and the Omohundro Institute of Early American History and Culture. Those at UC Berkeley interested in learning more about the Database and opportunities for collaboration should be in contact with G. Ugo Nwokeji (ugo@berkeley.edu), Associate Professor of African American Studies and Elena Schneider (eschneider@berkeley.edu), Associate Professor of History.
Please stay tuned to our website for updates on future events related to Black lives in America (and other topics). You can also subscribe to our newsletter or follow us on Twitter.