Please join us on February 22 at 12:30pm for a talk by Professor Kadji Amin, Associate Professor of Women's, Gender and Sexuality Studies at Emory University.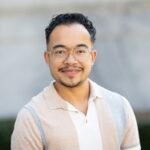 In this talk, "Training Bourgeois Selves: Magnus Hirschfeld and the Subsumption of Pederasty," Amin discusses a key architect of Modern Sexuality, the German Jewish homosexual sexologist Magnus Hirschfeld. Amin argues that Hirschfeld's work allows us to track the process by which the bourgeois Western notion of sexuality as a form of innate selfhood subsumed sex as a social and spatial practice. By turning to Hirschfeld's work, Amin's talk argues that the fundamental problem of queer of color critique — that of how sexuality conceals and transacts more salient hierarchies of power — was born with the epistemological invention of sexuality.
Following the lecture, a conversation with Professor Amin on his recent work will be held at the French Department Library, 4229 Dwinelle, from 5-6 pm.
The event is co-sponsored by the UC Berkeley Department of French. Additional support is provided by the Department of Ethnic Studies and the Center for the Study of Sexual Culture. This event is organized and moderated by Professor Salar Mameni, a Matrix Faculty Fellow.
View Map